Deacon can help you improve putting surface performance
and delivers consistent playing conditions for your golfers
Putting Green Performance
Greens are the lifeblood of the course and have a significant impact on golfer satisfaction. The ability to measure inputs, performance characteristics, and playing quality will allow you to deliver consistent and high-quality putting surfaces for your golfers.
Fine-Tune Your Greens
Data is crucial for refining maintenance practices. Surface Management allows you to precisely measure all daily inputs and cultural practices and record growth and playing characteristics, leading to better informed data-driven decisions.
The more you enter data and measure results in Surface Management, the more confidence you can have in your data-driven decisions. Historical data allows you to understand the impact of cultural practices and other variables like weather.
Surface management makes data easy to understand. It features a simple platform for entering your data on a daily basis and to view graphs and charts. It's also easy to share data with others at your facility to communicate more efficiently.
You can get up and running with Surface Management in less than 5 minutes!
Surface Management is easy to get set up, create accounts and record data. The easiest and most-convenient way to record data is by downloading and using the mobile app, available for iOS enabled devices.
Now you and your team are ready to start recording your inputs. It takes only seconds to record data on each green.
As data is added, you will begin to see your dashboard display insights. Customize your view to ensure that the most critical information displays first.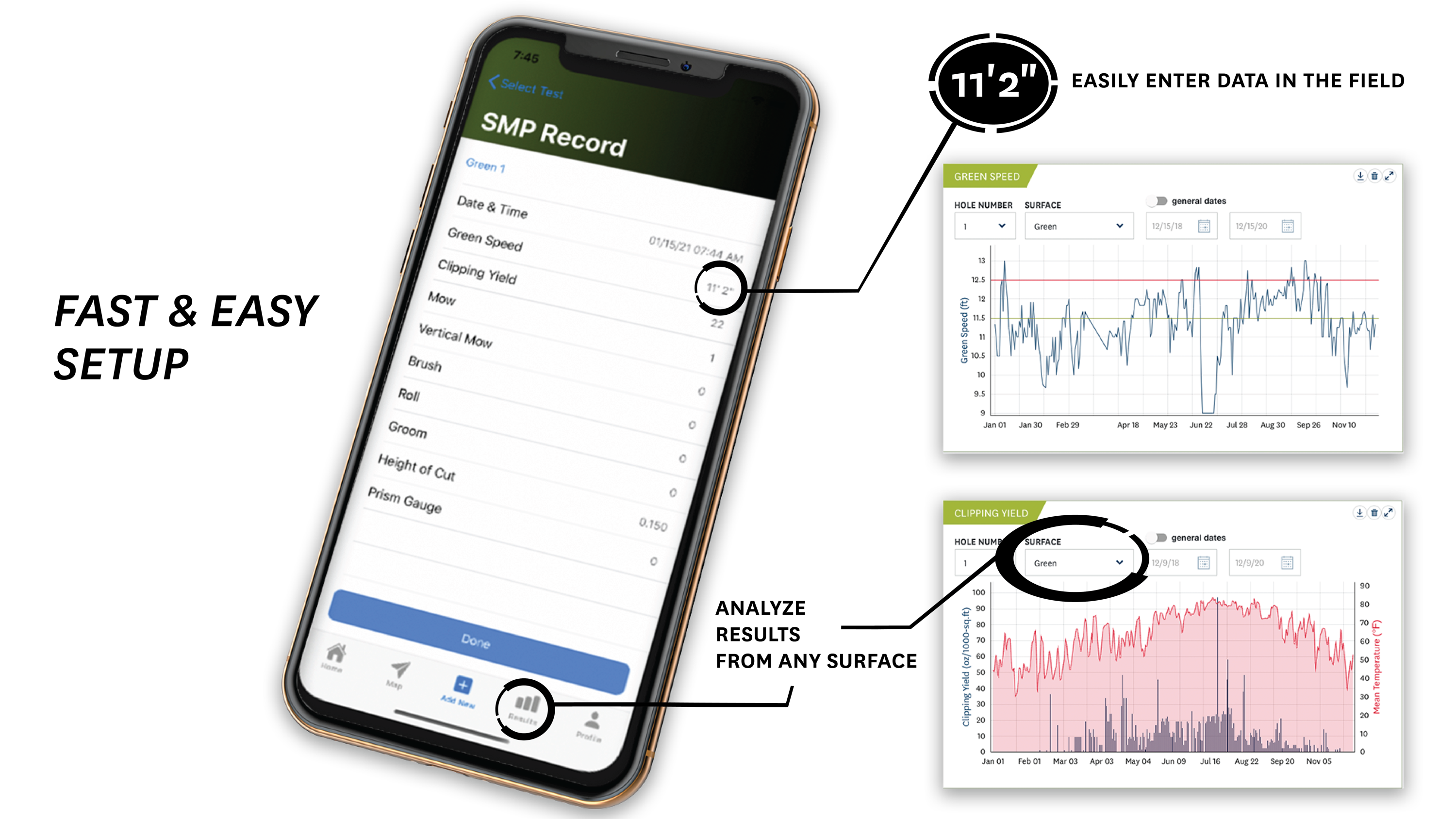 The importance of Surface Management
Everybody knows how important putting greens are. Facilities spend a lot of money to keep them in consistently good condition. Golfers want greens that roll true and have consistent speeds. Surface Management allows you to track key performance indicators to improve your ability to manage your greens and deliver consistent putting surfaces that satisfy your golfers.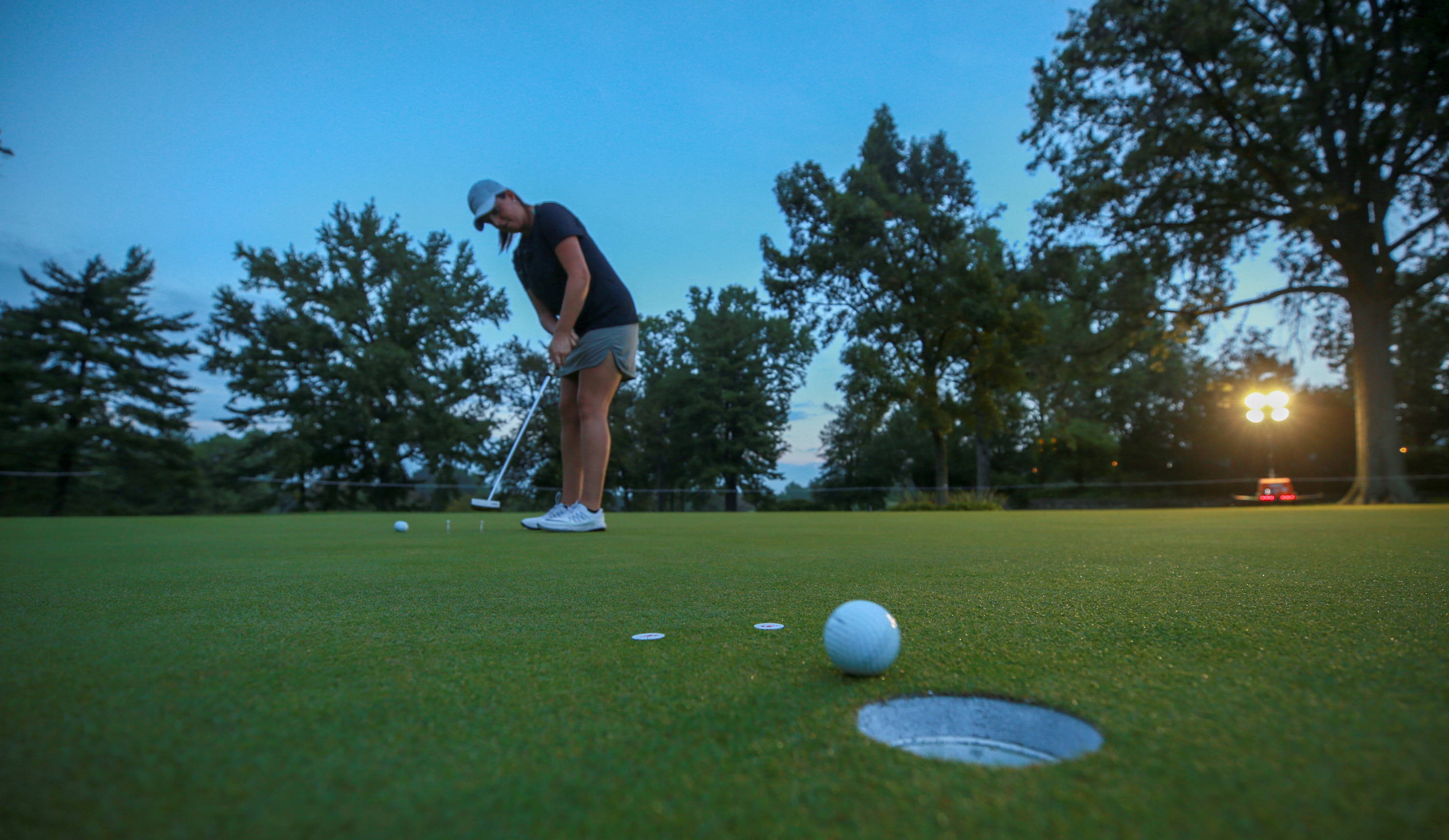 How Surface Management works
All it takes is a few minutes each day to record the inputs and cultural practices for a green, as well as the clipping yield and Stimpmeter reading after the morning maintenance.
Deacon consolidates all the data in a single location, making it easy to visualize and analyze the information, whether from day to day, month to month, or year over year.
Identify trends
All the data you accumulate through the daily measurement and recording can yield some significant insights. You can analyze the impact of variables such as weather, rainfall, and mowing regimen on the growth and performance of your greens. Whether you're looking for year-round consistency or trying to peak for a special event or tournament, the Surface Management tool can guide you along the way.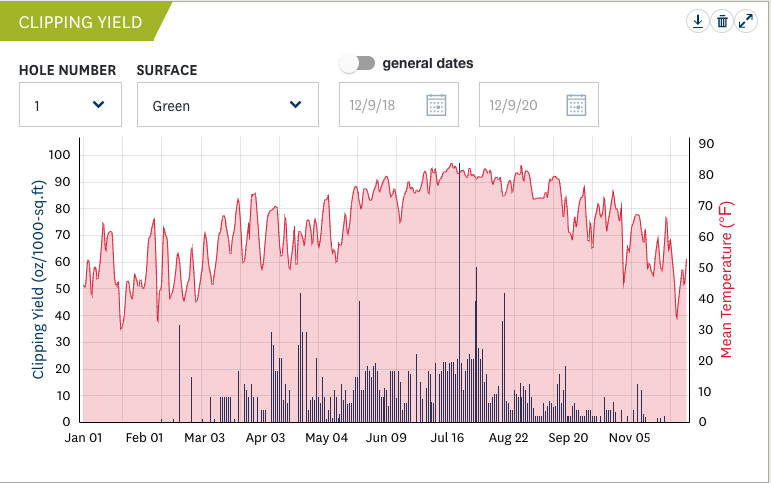 Sensor integration
We have the ability to ingest data from various on-course sensors that you use so you can expand your monitoring ability. So whether you want to track moisture, temperature, or anything else you measure on a regular basis, we can work with you to provide customized insights into how they impact the performance and playing quality of your putting surfaces. So talk to us and let us know how we can help you provide a better experience for your golfers.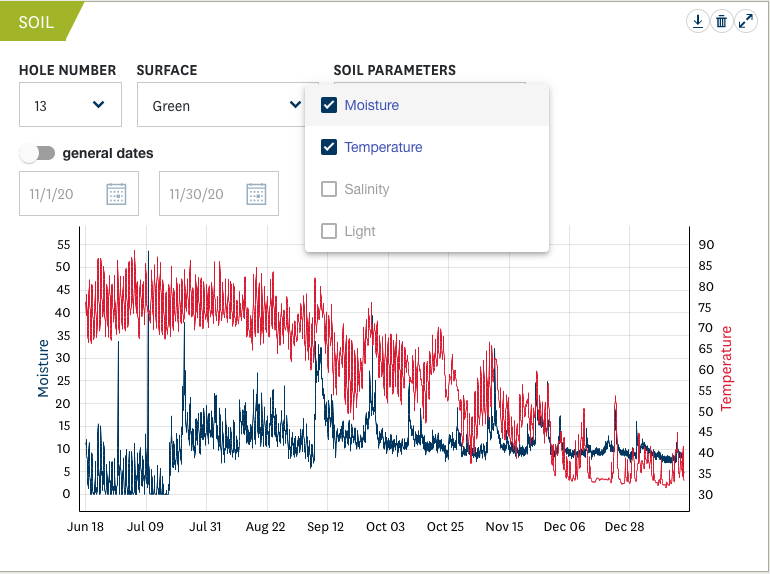 The value of daily tracking
With Surface Management, taking just a few minutes each day to measure, record, and enter data can help you spot trends and make decisions that improve efficiency and putting green performance
Track green speed, firmness, and soil moisture
Log your daily cultural practices
Track product applications
Quickly see application history
View the total amount applied, number of applications, and average rate
Perform comparisons over different points in time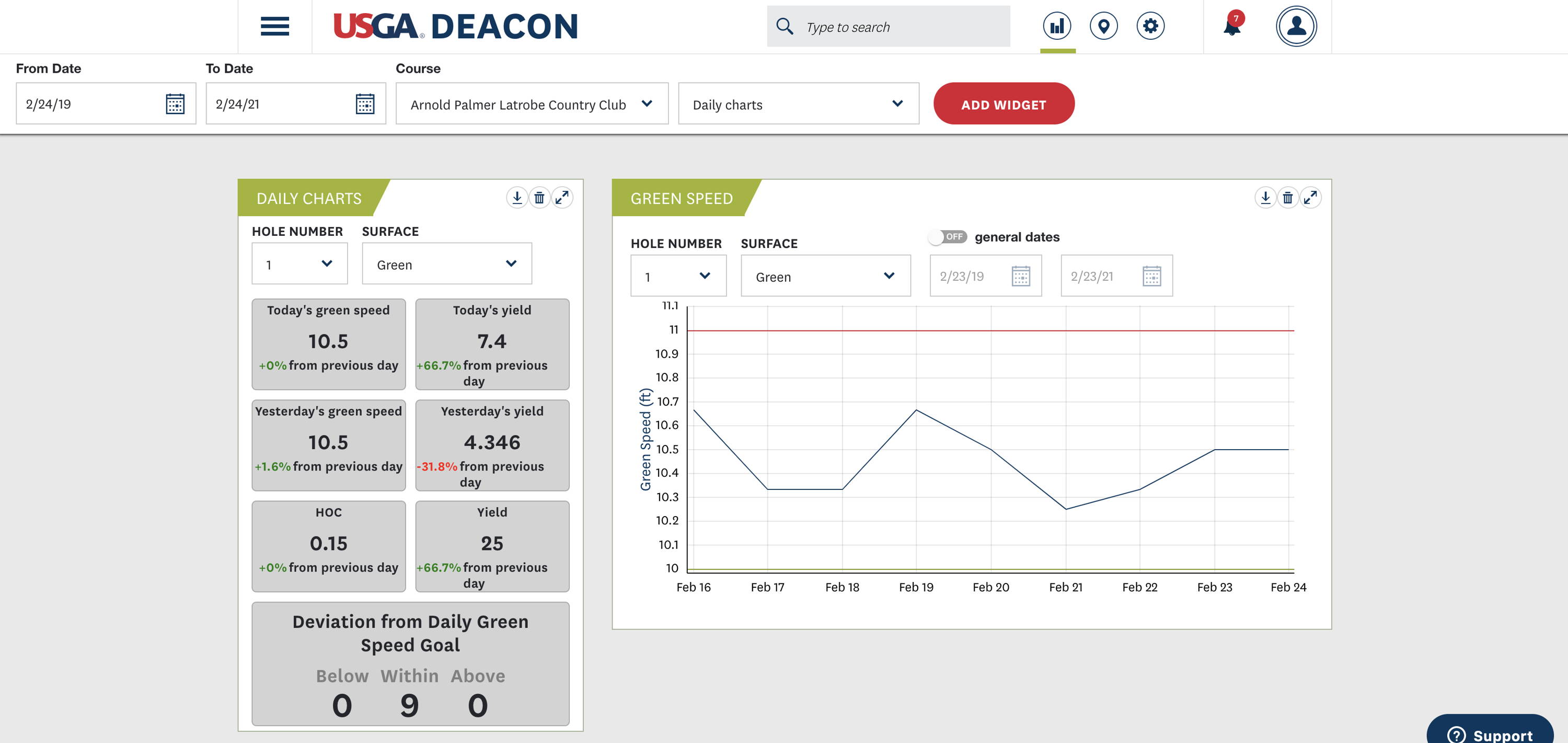 USGA Course Consulting Service
Take advantage of our expertise
The Surface Management tool can't do it all. A USGA regional agronomist can visit your course and provide guidance in analyzing the data and creating a customized action plan for your greens. They can also share their expertise gained from our research, our collective knowledge base, and visits to hundreds of courses in your region.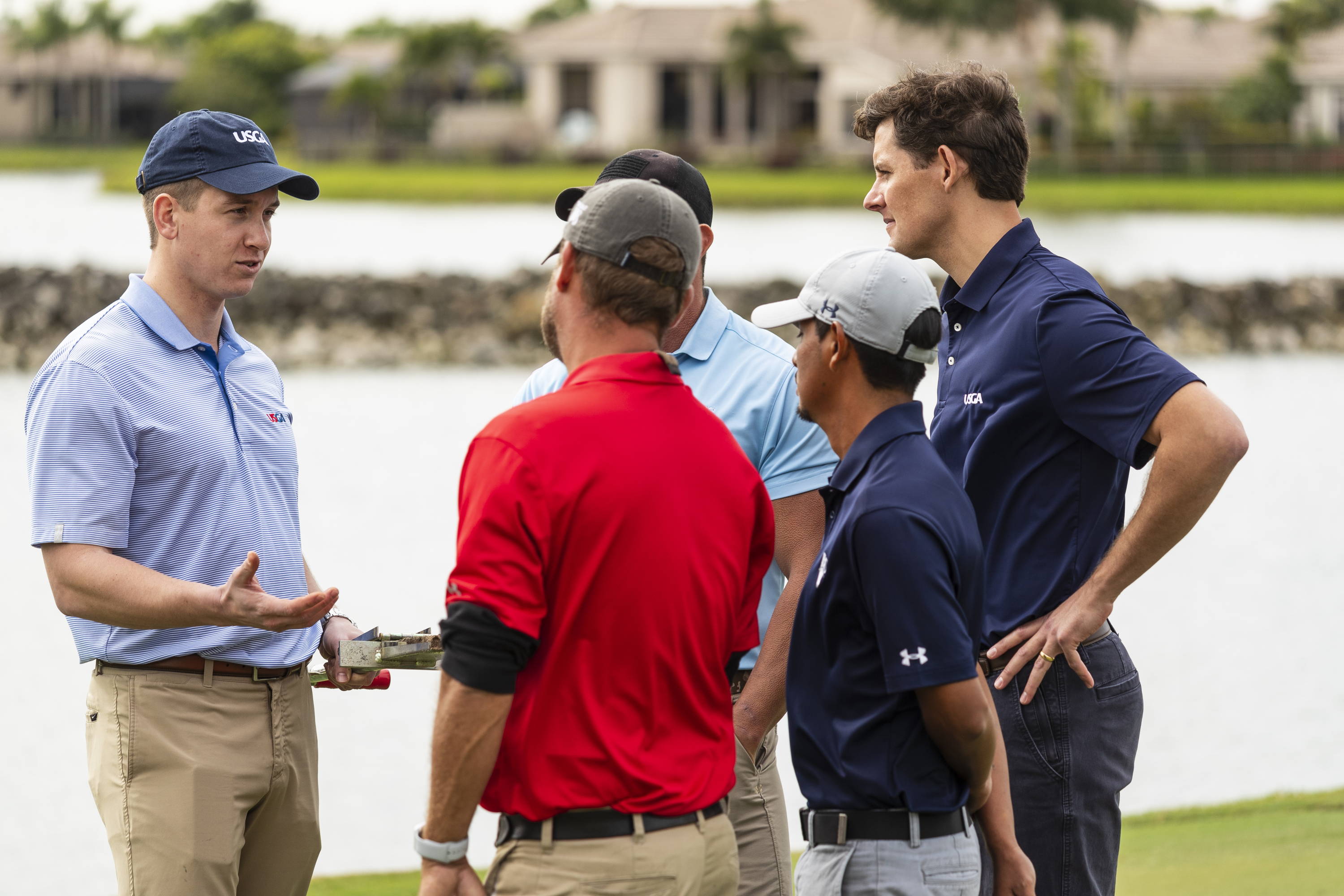 Learn more about the power of data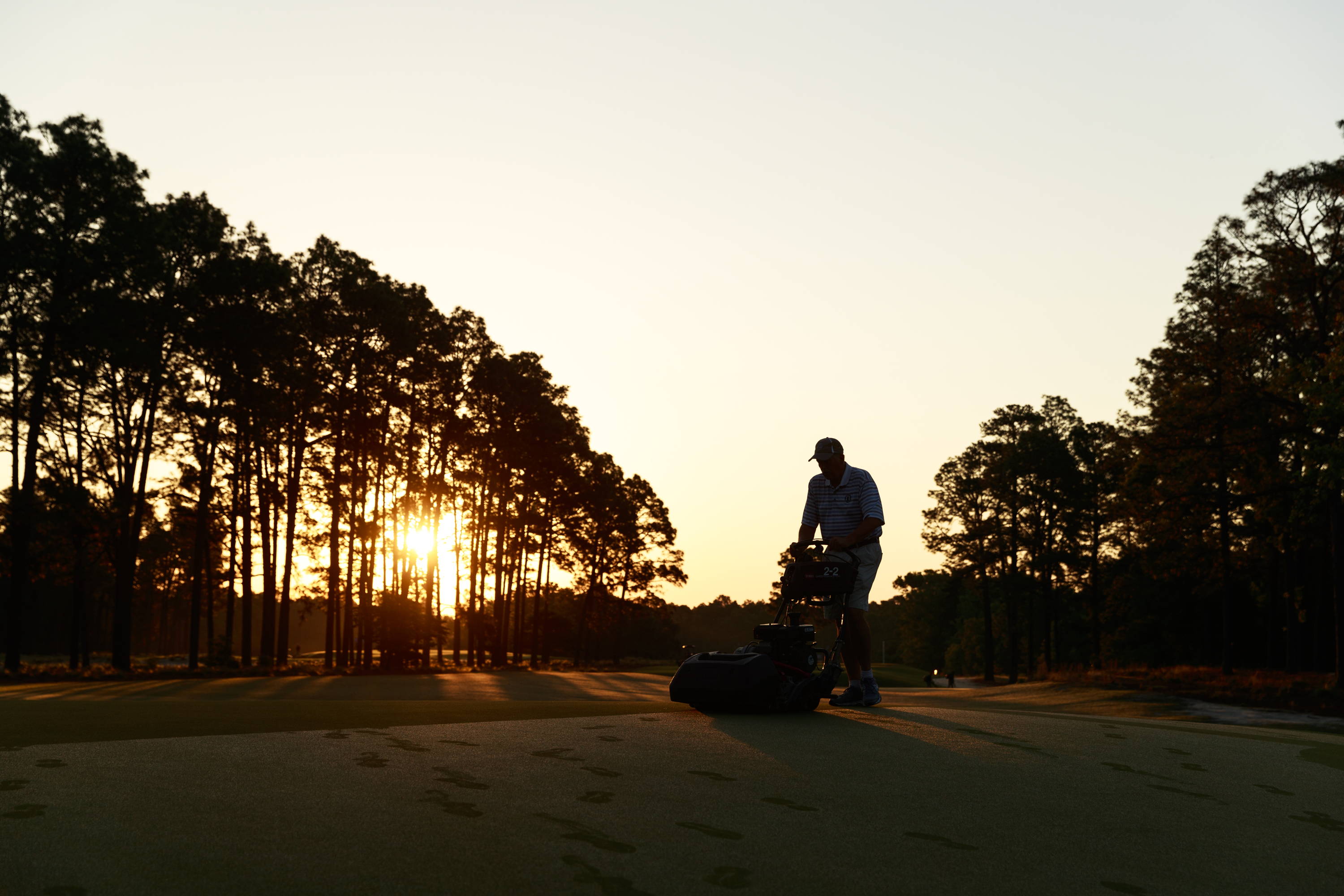 Ken Lee, Cherokee Town & Country Club
"The return on investment for Surface Management has been excellent. Using the data, we've learned that we can sometimes forgo a roll or second cut and achieve the same result, saving time and money."